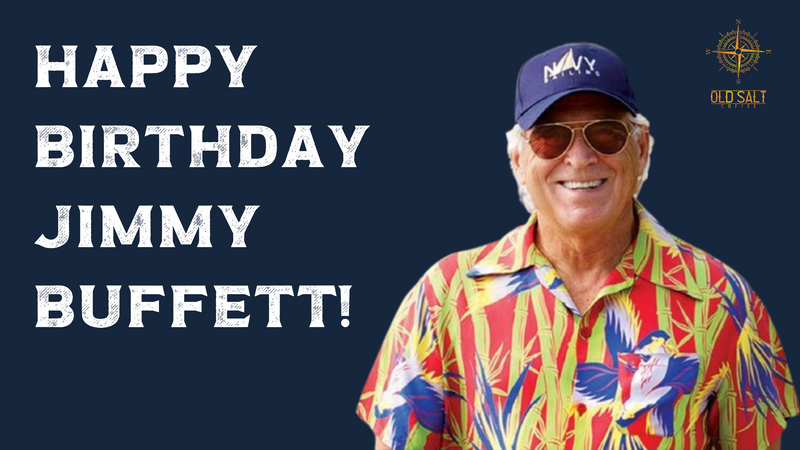 Happy B-day to the "Son of a Son of a Sailor"
Posted on
---
Merry Christmas Jimmy
So let's talk about the *other* person whose name begins with "J," has a 12/25 birthday and is worshiped around the globe.  
Born on December 25, 1946, Jimmy Buffett has been entertaining fans for five decades and has built up one heck of a legacy in the process.
Before becoming a full-time musician, Jimmy was a writer.  He was a correspondent for Billboard Magazine in the late 1960's, and while his focus may have pivoted, he never totally left that part of his life behind.  In fact (get ready to impress your friends with this one), Jimmy is one of only seven authors to top both the NY Times Fiction and Non-Fiction Bestseller Lists.  Take a moment and see if you guess any of the other six..The answer is here!  And while all his books are great, we're a little particular to the one that mentions salt in its title.
Some have suggested that Jimmy's music is equally influenced by Cowboys and Sailors.  In fact, Jimmy himself has referred to his catalog as "Gulf & Western."
Nobody captures the love of the sea quite like Jimmy and so many of his titles ring home for us.  The imagery of "One Particular Harbor," the pride exuded in "Son Of A Son Of A Sailor," the longing in "A Pirate Looks At 40" and of course the musical concoction that is "Margaritaville."   And even if Crosby, Stills & Nash wrote "Southern Cross," it's Jimmy who made that ode to sailing into the good time rocking anthem that is.
We know that many of you likely had other plans on December 25th but it's never too late to celebrate Jimmy's 75th Birthday.   And while you might feel inclined to do so with a margarita or a cheeseburger, there's no reason why you can't begin the festivities with some Old Salt Coffee.   Like Jimmy, we appreciate the beauty of the sea, it's imagery and how it just makes everything taste better.
Old Salt Coffee is veteran-owned but made with love for everyone.  And remember, no matter how many trips around the sun you've made, you're never too old to have a school boy heart.
SHIP'S STORE