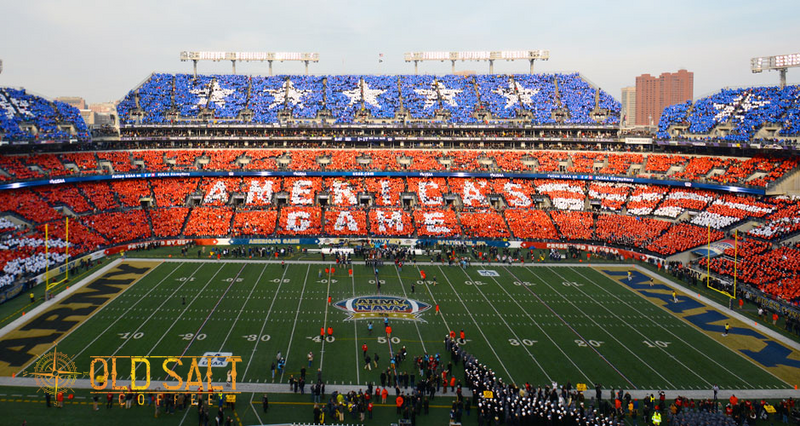 Why The Army-Navy Game Continues To Matter!
Posted on
---
Hoist a Mug to the Midshipmen
The Army-Navy Football rivalry goes back to 1890 (and a game won by Navy 24-0). As a veteran owned coffee company we know the game well. And as a company co-founded by several Navy Veterans it's no secret where our allegiance lies. Oh, and we'll gladly note that Navy leads the all-time series 61-53-7.
But when the two academies suit up on December 11, we'll take a moment and applaud both teams. Why? Because as much as we're looking to BEAT ARMY, we know that at the end of the day we're all on the same team.
A Special Day For All Veterans
The Army Navy Game is special. There's a reason why this December's game is the 122nd edition of the rivalry. From its initial kickoff on November 29, 1890 the game has given us several unique moments and memories.
The 1926 Army-Navy Game was part of the dedication ceremony for Chicago's legendary Soldier Field. "Instant Replay" saw its American debut during the 1963 Army-Navy Game. Heck, there are even competitions within the competition.  Just last week, The Military Times devoted some ink into analyzing the finer points of each team's 2021 Rivalry Game Uniform.  The journalist (a Marine Corps Veteran) noted that this year "both teams stepped up their sartorial game," and that Navy's Uniforms are "snazzy and heavy on Independence Day-styled patriotism."  In the end, the well-fought fashion battle was given to Army.  It's OK, we'll see them on the gridiron..colorful cleats and all!It's a tradition, it's patriotic and, of all, it's fun.
Drink Of The Game: Veteran Owned Coffee
It's about rivalry and camaraderie. But it's also about how those lines can blur. As a veteran owned coffee company, we feel this in our veins. Nothing lifts our spirits like the opening notes of "Anchors Aweigh" and "Navy Blue and Gold." We bleed blue and gold.
But as much as we want those men from West Point to lose on the gridiron, we'll root for them in many other settings. We may be rivals in sport, but we're allies in mission.
In The End, We're All Winners!
No matter who wins on December 11, we plan to celebrate. And irrespective of the finer points of the game, it will be a day of connection and camaraderie for all.
Yes, much of the Old Salt Team are rooting hard and unapologetically for the men from Annapolis. But post-game, we will host a mug to both teams. A mug filled with coffee made by veterans but meant to be enjoyed by everyone.
Because you don't need to be a veteran to appreciate and enjoy the Army-Navy Football Game. And you don't need to be a veteran to appreciate veteran owned coffee.
Army-Navy Football is ubiquitous and so is Old Salt Coffee.
SHIP'S STORE