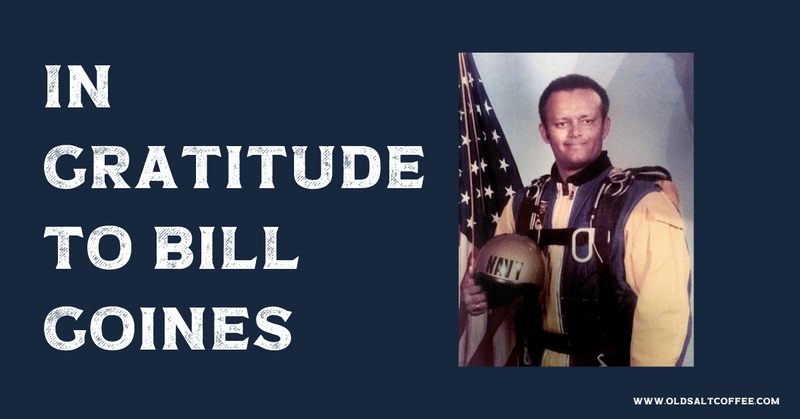 In Gratitude To Bill Goines
Posted on
---
Hoist a Mug to Master Chief Goines
Retired Navy Master Chief Bill Goines may not be an everyday household name but perhaps he should be. Every Navy SEAL has had to work hard and overcome challenges, but when you're America's First Black Navy SEAL, it's obvious that your path was harder than just about everyone else's. As we enter Black History Month, we at Old Salt believe it's important to take a look at his journey and ask ourselves what lessons can be learned.
Born in Dayton, Ohio in 1936 and raised in Cincinnati, Goines was unaware that his local neighborhood even had a public pool since African Americans were not allowed to swim there. He learned to swim in a nearby creek and river, while utilizing a nearby pool that was open to African American for four hours on Saturday Mornings. It was after watching "The Frogmen" as a High School Junior that he knew he ultimately wanted to serve in The United States Navy.
An Original SEAL
The roots of the The United States Navy Sea, Air and Land (SEAL) Teams can be traced to World War II. However, the modern-day Navy SEALS themselves were not formally recognized until a 1961 address to Congress by President John F. Kennedy. When the initial two Navy SEALS teams were formed in 1962, their roster included Bill Goines. 
"I was one of 40 selected to become the nucleus of future Navy SEALs," Goines said. "I remember asking this lieutenant, 'what was our mission gonna be? And he said, 'It's too secret to talk about.'"
Still Serving
Bill Goines would be one of the first SEALS sent to Cuba during the Missile Crisis and would later serve three tours in Vietnam. He retired from the SEALS in 1987 but he hasn't stopped serving. He now travels the country to recruit young men and women of color who he believes could potentially be future Navy SEALS. 
As we celebrate Black History Month, we want to remember the extra obstacles that Bill Goines and others have overcome before, during and after their service. Their very presence has made our country better and we are grateful on so many levels.
SHIP'S STORE