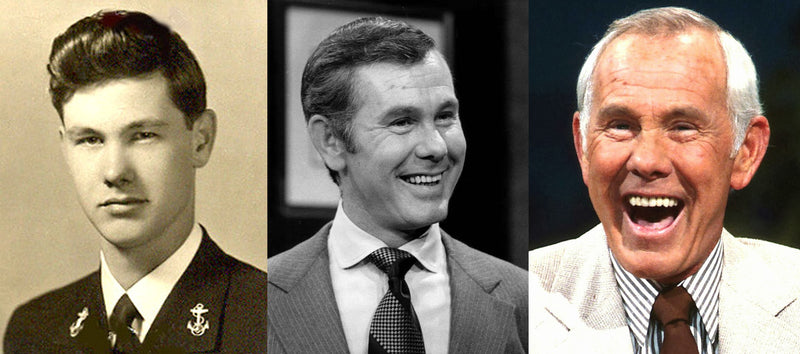 Old Salt of October 2021 - Johnny Carson
Posted on
---
Heeeeere's Johnny!
Bet you didn't know this about comedian Johnny Carson....
The king of late-night TV for over three decades, Johnny Carson was born in Corning, Iowa, on October 23, 1925. After graduating from high school, Carson had his first encounter with Hollywood. He had hitchhiked to Hollywood, where he was arrested and fined $50 for impersonating a midshipman.... Foreshadowing perhaps? When WWII began, Carson was working as a theater usher.
Naval Career
Hoping to become a pilot, he enlisted in the U.S. Navy on June 8, 1943, as an apprentice seaman enrolled in the V-5 (Pilot) program. However, ultimately he received  V-12 (Officer) Navy College Training Program officer training at Columbia University and Millsaps College and was commissioned an Ensign late in the war. While in college he performed magic for classmates on the side. After being commissioned, Carson was assigned to the battleship USS Pennsylvania in the Pacific.
He was en route to the combat zone aboard a troopship when the bombing of Hiroshima and Nagasaki brought the war to a close. Pennsylvania was torpedoed on August 12, 1945 and Carson reported for duty on the 14th — the last day of the war. Although he arrived too late for combat, he got a firsthand education in the consequences of war. The damaged warship sailed to Guam for repairs, and as the newest and most junior officer, Carson was assigned to supervise the removal of 20 deceased Sailors.
While in the Navy, Carson posted a 10–0 amateur boxing record, with most of his bouts fought on board Pennsylvania.  Carson served as a communications officer in charge of decoding encrypted messages. He said that the high point of his military career was performing a magic trick for United States Secretary of the Navy James V. Forrestal. In a conversation with Forrestal, the Secretary asked Carson if he planned to stay in the Navy after the war.  In response, Carson said no and told him he wanted to be a magician. Forrestal asked him to perform, and Carson responded with a card trick.  Carson made the discovery that he could entertain and amuse someone as cranky and sophisticated as Forrestal.
Post-Navy
Taking advantage of educational opportunities from the Navy, Carson attended the University of Nebraska–Lincoln, where he joined Phi Gamma Delta fraternity and continued performing magic (then paid $25 per appearance). He majored in journalism with the intention of becoming a comedy writer, but instead switched his major to speech and drama a few months later because he wanted to become a radio performer. Carson's college thesis, titled "How to Write Comedian Jokes", was a compilation of taped skits and jokes from popular radio shows with Carson explaining the comedic technique in a voice-over. It allowed him to graduate in three years. He graduated with a Bachelor of Arts degree in radio and speech with a minor in physics in 1949.
After college, he worked for various radio and television shows in California.
Carson's Coffee Break - In 1953, Johnny Carson hosted a 5-minute show on KNXT in Los Angeles. He had a running joke with Red Skelton, the biggest star on CBS at the time. When Skelton appeared, Carson would not have him speak, citing that the show had run out of time. After a few weeks of this, Skelton appeared on the show with Carson, who was tied to his chair and gagged. Skelton even did a Butternut Coffee commercial.
In 1962, Carson became the permanent host of the Tonight Show. He went on to host the show for thirty years, and became one of the most recognizable television personalities.
Carson's Influence
Carson's show launched the careers of many performers, especially comedians and musicians. For a comedian appearing on the show, getting Carson to laugh and being invited to the guest chair were considered the highest honors. Notable among these were David Letterman, Robin Williams, Jay Leno, Jerry Seinfeld, Arsenio Hall, Jeff Foxworthy, Ellen DeGeneres, Rodney Dangerfield, Joan Rivers, David Brenner, Tim Allen, Drew Carey, Howie Mandel, Roseanne Barr and Don Rickles.
In 1966, Carson popularized Milton Bradley's game Twister when he played it with actress Eva Gabor. Not widely known up to that time, the game skyrocketed in popularity after the broadcast.
In December 1973, Carson joked on Tonight about an alleged shortage of toilet paper. Viewers believed the story and panic buying and hoarding ensued across the United States as consumers emptied stores, causing a real shortage that lasted for weeks. Stores and toilet paper manufacturers had to ration supplies until the panic ended.
This month, we at OSCC Hoist our Mugs to one of the classics! Johnny Carson!
SHIP'S STORE