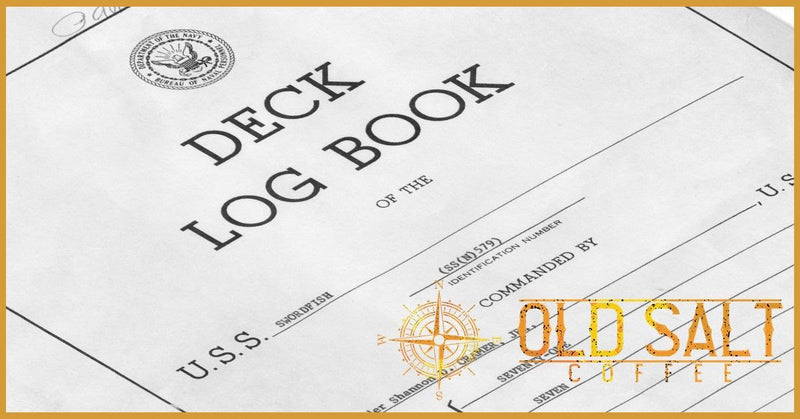 Deck Log: Hoist Your Mug in January 2021 ☕
Posted on
---
Welcome to 2021!
Ask any "Old Salt" why they chose a Navy career – and you just might get the response "for the sea stories!" Sea Stories are one of the pillars of a seafaring career; they are more than just "been there, done that...." They are stories of drama, whimsy, far off lands, the good and bad times – they create a sense of purpose and community which makes the sea service a profession, and not just a job.

Sea stories are often laced with knowledge, insight, and wisdom. They are the vehicle by which hard-learned lessons are passed down to the next generation of Old Salts; lessons that can't be taught through a qualification sheet or a general military training lecture. Sea Stories connect Sailors - people who would normally have little in common become close friends, mentors, brother-in-arms through tales of shared experiences. Many years after leaving the seagoing profession – a sea story can instantly connect people at a human level.

A quiet moment and a cup of coffee can be the ideal setting to share Sea Stories. After a harrowing underway evolution, a high-stress material inspection, or simply during the calm of a late-night quarterdeck watch, a cup of coffee and an Old Salt often leads to the very best of Sea Stories.
At Old Salt Coffee, our goal is to bring Sailors together, at sea or ashore, to share their Sea Stories. Our coffees have that distinctive aroma, body, and taste that sets the tone for conversations.

We'd love to hear your sea story! We invite you to share it with us on our website.  And there you can read the sea stories of fellow "Old Salts" - Sailors or otherwise.
Old Salt of the Month: LCDR J. S. Lyman...
...who lost his life aboard USS Thresher.
On the first night of the New Year, an unofficially endorsed truce allows the sacrosanct veil of regulation to be pierced — if only for a brief moment. During the mid-watch from midnight to 0400 (and only during the mid-watch) it is permitted for a ship to record the first entry of the New Year in verse. In this annual, fleeting, first entry of the New Year, the deck log bears witness to a hint of individuality, personality, and sometimes the mindset of shipboard life. However, Navy regulations remain ever obstinate, and the leeway for creativity comes with a caveat: all entries should still include the specified requirements noted in current Navy Regulations, and administered under OPNAV instruction issued by the Chief of Naval Operations.
*
Our Old Salt, John S. Lyman, Jr., made the following 1 Jan 1963 Deck Log entry:
"Thresher (SSN-593), 1 January 1963

00-04 This entry is dedicated to the unknown, unrated and unnecessary yeoman at NavPers who so faithfully and capably reads, notes, files and forgets my continuing and constant efforts through the year.

Now read, good yeoman, and you shall see
How THRESHER met the best year yet and first of '63
The temperature was zero or maybe just below
And the winds whistled sharply, from stern to open bow.
The skies were clear, although to the waters west
Appeared a few broken clouds – call it "Scattered" at best.
It hardly bears repeating – you must know as well as I
That THRESHER lies in Dry Dock just as high and dry
As on previous days weeks months                                              jsl
(Forgive the crossovers, please, yeo, just this once)
Not a soul is missing, we've mustered our whole flock
The ship still stands, with all hands, in #2 Dock
Or did you believe that we might leave
Our protected spot on New Years' Eve?
Still receiving AC power, as reported before
With miscellaneous services brought from the shore.
Units of the Fleets, Atlantic and Reserve
Are still joined with us in our private preserve.
At dock or on block, moored with wire or manila hemp
Spring line or breast line, we're all at PORTSMOUTH, New Hamp.
There has been no demotion, or significant promotion
In this misbegotten, all but forgotten corner of the ocean
And the most rank of us on AEOLUS is SOPA still you see.
(Lest you forget, the number yet, remains as ARC-3.)
Thus ends my missive for tonight, the very first this year
Through past performance indicates, not the very last I fear!

Your faithful Correspondent,
J S Lyman
LT, USN"
On This Date in January...
1st: 1902 - USS Plunger (SS-2), the lead ship of the Plunger-class submarine, launches. She is commissioned Sept. 19, 1903, at the Holland Company yard at New Suffolk, Long Island, N.Y. Ensign Chester W. Nimitz is the submarines final commander when Plunger is decommissioned Nov. 6, 1909 at the Charleston Navy Shipyard.
2nd: 1862 - Capt. David G. Farragut, commander of his flagship, the screw sloop of war Hartford, departs Hampton Roads for Ship Island, Miss., where Farragut takes command of the Western Gulf Blockading Squadron in preparation for the assault on New Orleans.
3rd: 2017 - The aircraft carrier, USS Enterprise (CVN 65) is decommissioned in a ceremony held in the ship's hangar bay, Feb. 3. The ceremony marks the end the ship's nearly 55-year career, and is the first decommissioning of a nuclear-powered aircraft carrier.
4th: 1779 - Capt. John Paul Jones takes command of Bonhomme Richard (formerly Duc de Duras), which was given to the United States by King Louis XVI of France. The name honors Benjamin Franklin, the American commissioner at Paris whose famous almanacs had been published in France under the title Les Maximes du Bonhomme Richard.
5th: 1854 - The dedication of the first chapel built on Naval property was held at Annapolis, Md.
6th: 1973 - In accordance with the agreement at the Paris Peace Talks, Navy Task Force 78 begins Operation End Sweep, the mine clearance of North Vietnamese waters of mines laid in 1972.
7th: 1800 - USS Essex becomes first U.S. Navy vessel to cross the Equator.
8th: 1890 - A detachment of USS Omaha Sailors and Marines comes ashore at the town of Hodogaya, Japan, to assist in fighting an extensive fire.
9th: 1960 - USS Sargo (SSN 583) becomes the third submarine to surface through the ice at the North Pole.
10th: 1991 - During Operation Desert Storm, A-6 Intruders attack two unidentified patrol boats in the northern Arabian Gulf, destroying both.
11th: 1862 - Secretary of the Navy Gideon Welles directs the formation of an organization to evaluate new inventions and technical development that eventually leads to National Academy of Science.
12th: 1947 - The first launch of a guided missile, the Loon, takes place on board USS Cusk (SS 348).
13th: 1943 - Women Marines were reestablished as the Marine Corps Womens Reserve. Col. Ruth Cheney Streeter, the first Director of the United States Marine Corps Women's Reserve, serves until Dec. 7, 1945.
14th: 1813 - The frigate Essex, commanded by Capt. David Porter, becomes the first U.S. Navy warship to round Cape Horn and enter the Pacific Ocean.
15th: 1898 - The battleship Maine explodes in Havana Harbor and nearly three-quarters of the battleship's crew die as a result of the blast. Popular opinion blames Spain, and the Spanish-American war starts soon after.
16th: 1804 - Lt. Stephen Decatur, with volunteers from frigate Constitution and schooner Enterprise, enters Tripoli harbor by night in the ketch Intrepid to burn the captured frigate Philadelphia.
17th: 1864 - While at anchor off Charleston, S.C., the Steam Sloop of War USS Housatonic is attacked by the Confederate submarine H.L. Hunley using a spar torpedo. USS Housatonic is recorded as the first warship to be sunk by a submarine.
18th: 1846 - Secretary of the Navy George Bancroft issues the General Order to change Larboard to Port for identification of the left side of a sailing vessel.
19th: 1900 - President William McKinley signs an Executive Order placing Tutuila (Samoa) and nearby islands placed the Navy Department.
20th: 1962 - Lt. Colonel John Glenn, USMC, becomes the first American to orbit the Earth. Recovery is by USS Noa (DD-841).
21st: 1991 - During Operation Desert Storm, AV-8B aircraft from Marine Attack Squadron 331 conduct the first of 243 sorties off the deck of USS Nassau (LHA-4).
22nd: 1974 - Lt. j.g. Barbara Ann (Allen) Rainey becomes the first Navy designated female aviator.
23rd: 1795 - The U.S. Navy Office of Purveyor of Supplies is established.
24th: 1959 - USS Galveston (CLG 3) fired the first Talos surface-to-air missile.
25th: 1933 - USS Ranger (CV 4), the US Navy's first true aircraft carrier, is launched. 1991 - During Operation Desert Storm, USS Wisconsin (BB 64) and USS Missouri (BB 63) provide naval gunfire support and other operations.
26th: 1991 - During Operation Desert Storm, A-6E aircraft of VA-155 from USS Ranger (CVA 61) and Marine aircraft bomb Iraqi troops fleeing Kuwait City to Basra.
27th: 2017 - The fast-attack submarine USS Albuquerque (SSN 706) is decommissioned after 33 years of service during a ceremony held at Keyport Undersea Museum. 
28th: 1987 - Guided Missile Frigate USS Kauffman (FFG 59) is commissioned.
SHIP'S STORE