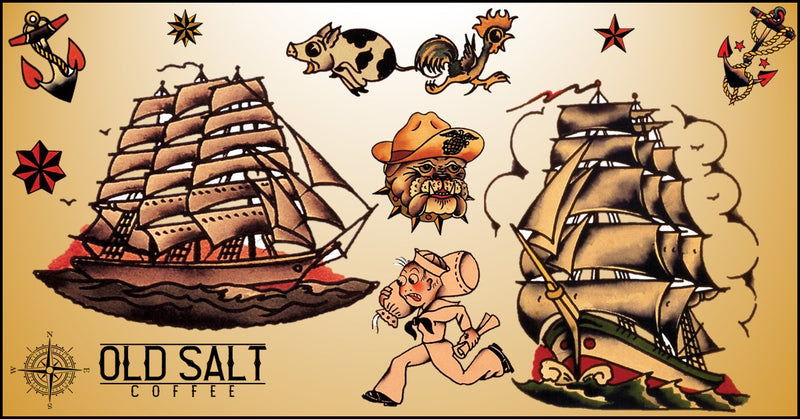 Deck Log: Hoist your Mug in February 2021! ☕
Posted on
---
Green Eyes –
the telltale feature of nighttime special operations missions. You may have read or seen stories depicting these stealthy warfighters who put their lives on the line to carry out the most covert and clandestine operations our nation requires. The bag of our Green Eyes blend features art in the style of Sailor Jerry's traditional tattoos. We'd like to tell you a little more about Sailor Jerry and Sailor Tattoos this month. Keep reading for more!
Old Salt of the Month - Norman Keith Collins (aka "Sailor Jerry")
Norman Keith Collins (aka Sailor Jerry) – Hailing from Ukiah, California, Norman Collins was nicknamed Jerry by his parents, who owned an as- (*ahem*)
donkey
of the same name. As a rebel teen he'd embark on independent expeditions, you know, hitch-hiking, jumping trains, the like. During his wild exploits, he found his calling in tattoo artistry. Once while young, in the early stage of his tattoo artist apprenticeship, he was screwed up in the head by Gib "Tatts" Thomas when Thomas pretended to be a corpse for Collins to practice on. And when Collins began the tattoo, Thomas abruptly sat up, scaring the living bejebus out of him! Before enlisting in the Navy himself, Collins spent a few years in Great Lakes tattooing Navy cadets. He spent several years traveling Asia in the Navy before separating and settling in Hawaii, where he made his living by opening a tattoo shop and giving boat tours on a 3-masted schooner as a licensed skipper. This month, we hoist our mugs to the Old Salt, Norman Collins!
Sailors and Tattoos, a Traditional Relationship
Do tattoos give salt or indicate salt? Who the heck knows? But tattooing of sailors is a tradition that can be traced as far back as the 1700s. When Old Salt Captain James Cook came across the Maori of the South Pacific, his crew decided to get tatted up as "souvenirs" of their visit. After that, the connection between sailors and tattoos steadily increased. The US government decided in the early 1900s that "naughty" tatts just were beyond the pale, and banned them. This created an easy way to bale on the service and created a boom in tattoos of nude women. However, if these miscreants later decided to join the navy they had to have a tattoo artist "dress" the woman.
Over time, tattoos became one of the more popular traditions among Old Salts. Tattoos became a graphic language and a way for sailors to express themselves through body art, as well as a means of visually identifying with a broader social group. Examples of popular symbols in sailor tattooing are:
Anchor:  achieved the rank of Boatswain or Chief, though historically indicated sailing across the Atlantic.
Dragon: served in Asia.
Fully rigged Ship: traversed  Cape Horn.
Golden Dragon: crossed the International Date Line.
Hula Girl: stationed in Hawaii or sailing there.
Red and green nautical stars on the chest: won a bar fight in a foreign port.
Shellback: crossed the equator.
Golden Shellback: crossed the equator and international date line at the same time.
Winged Shellback: crossed the equator whilst flying.
Rope around the wrist/"Hold Fast" across the knuckles: is or was a deckhand.
Swallow: Initially obtained when first setting to sea, now traditionally received for each increment of 5,000 miles sailed.
Chicken and Pig: Usually tattooed on each foot (pig on the left, chicken on the right) to protect the sailor from drowning in a shipwreck. This is from chicken and pigs said to survive wrecks because their wooden shipping containers kept them afloat.
Shark: protection against being eaten if the sailor fell overboard.
These and many other stylized tattoos have evolved over the years to a distinctiveness set apart from the tattoos commonly seen on the street. So the next time you see one of these tattoos, you just may have encountered yet another Old Salt!
Navy Special Warfare
In celebration of the successful launch of our Green Eyes blend, we'd like to tell you about Navy Special Warfare.
The origins of naval special warfare trace its roots to scouts and raiders, naval combat demolition units, swimmers, underwater demolition teams, and motor torpedo boat squadrons of World War II. On 15 August 1942, to meet the need for a beach reconnaissance force, selected Navy and Army personnel began joint training at Amphibious Training Base, Little Creek, Virginia. Scouts and raiders were trained to identify and reconnoiter the objective beach, maintain a position on a designated beach prior to a landing, and guide the assault to the landing beach. 
The first group of trained operators included Captain Phil H. Bucklew—known as the "Father of Naval Special Warfare"—who saw action during the invasion of North Africa, Salerno, Sicily, Anzio, Normandy, and southern France. During World War II, combat demolition units were formed as well. Lieutenant Commander Draper L. Kauffman—known as the "Father of Naval Combat Demolition"—established a school to train people to eliminate obstacles on an enemy-held beach prior to an invasion. 
Some of the earliest World War II predecessors of the SEALs were operational swimmers of the Office of Strategic Services. Dressed in swimsuits, fins and facemasks, they formed underwater demolition teams (UDT) who participated in every major amphibious landing in the Pacific.
During the Korean War, as part of a Special Operations Group, UDTs conducted demolition raids on railroad tunnels and bridges along the Korean coast. The "frogmen," as they became to be known, also participated in the amphibious landing at Inchon, mine-clearing operations in Wonsan Harbor, and Operation Fishnet. 
The Navy SEALs were formally established in January 1962, in response to President John F. Kennedy's desire for the services to develop unconventional warfare. SEALs were used extensively during the Vietnam War for training Vietnamese Biet Hai commandos, and in conducting operations of their own. SEALs were first on the ground in Afghanistan after the 11 September 2001 terrorist attacks on the USA; they carried out more than 75 special reconnaissance and direct action missions. Then on 2 May 2011, SEAL Team SIX raided an al-Qaeda compound in Abbottabad, Pakistan, killing the mastermind behind the 9/11 attacks—Osama bin Laden. 
We at
Old Salt Coffee Company
hoist our mugs to Naval Special Warfare!
On This Date in February...
1st: 1902 - USS Plunger (SS-2), the lead ship of the Plunger-class submarine, launches. She is commissioned Sept. 19, 1903, at the Holland Company yard at New Suffolk, Long Island, N.Y. Ensign Chester W. Nimitz is the submarines final commander when Plunger is decommissioned Nov. 6, 1909 at the Charleston Navy Shipyard.
2nd: 1862 - Capt. David G. Farragut, commander of his flagship, the screw sloop of war Hartford, departs Hampton Roads for Ship Island, Miss., where Farragut takes command of the Western Gulf Blockading Squadron in preparation for the assault on New Orleans.
3rd: 2017 - The aircraft carrier, USS Enterprise (CVN 65) is decommissioned in a ceremony held in the ship's hangar bay, Feb. 3. The ceremony marks the end the ship's nearly 55-year career, and is the first decommissioning of a nuclear-powered aircraft carrier.
4th: 1779 - Capt. John Paul Jones takes command of Bonhomme Richard (formerly Duc de Duras), which was given to the United States by King Louis XVI of France. The name honors Benjamin Franklin, the American commissioner at Paris whose famous almanacs had been published in France under the title Les Maximes du Bonhomme Richard.
5th: 1854 - The dedication of the first chapel built on Naval property was held at Annapolis, Md.
6th: 1973 - In accordance with the agreement at the Paris Peace Talks, Navy Task Force 78 begins Operation End Sweep, the mine clearance of North Vietnamese waters of mines laid in 1972.
7th: 1800 - USS Essex becomes first U.S. Navy vessel to cross the Equator.
8th: 1890 - A detachment of USS Omaha Sailors and Marines comes ashore at the town of Hodogaya, Japan, to assist in fighting an extensive fire.
9th: 1960 - USS Sargo (SSN 583) becomes the third submarine to surface through the ice at the North Pole.
10th: 1991 - During Operation Desert Storm, A-6 Intruders attack two unidentified patrol boats in the northern Arabian Gulf, destroying both.
11th: 1862 - Secretary of the Navy Gideon Welles directs the formation of an organization to evaluate new inventions and technical development that eventually leads to National Academy of Science.
12th: 1947 - The first launch of a guided missile, the Loon, takes place on board USS Cusk (SS 348).
13th: 1943 - Women Marines were reestablished as the Marine Corps Womens Reserve. Col. Ruth Cheney Streeter, the first Director of the United States Marine Corps Women's Reserve, serves until Dec. 7, 1945.
14th: 1813 - The frigate Essex, commanded by Capt. David Porter, becomes the first U.S. Navy warship to round Cape Horn and enter the Pacific Ocean.
15th: 1898 - The battleship Maine explodes in Havana Harbor and nearly three-quarters of the battleship's crew die as a result of the blast. Popular opinion blames Spain, and the Spanish-American war starts soon after.
16th: 1804 - Lt. Stephen Decatur, with volunteers from frigate Constitution and schooner Enterprise, enters Tripoli harbor by night in the ketch Intrepid to burn the captured frigate Philadelphia.
17th: 1864 - While at anchor off Charleston, S.C., the Steam Sloop of War USS Housatonic is attacked by the Confederate submarine H.L. Hunley using a spar torpedo. USS Housatonic is recorded as the first warship to be sunk by a submarine.
18th: 1846 - Secretary of the Navy George Bancroft issues the General Order to change Larboard to Port for identification of the left side of a sailing vessel.
19th: 1900 - President William McKinley signs an Executive Order placing Tutuila (Samoa) and nearby islands placed the Navy Department.
20th: 1962 - Lt. Colonel John Glenn, USMC, becomes the first American to orbit the Earth. Recovery is by USS Noa (DD-841).
21st: 1991 - During Operation Desert Storm, AV-8B aircraft from Marine Attack Squadron 331 conduct the first of 243 sorties off the deck of USS Nassau (LHA-4).
22nd: 1974 - Lt. j.g. Barbara Ann (Allen) Rainey becomes the first Navy designated female aviator.
23rd: 1795 - The U.S. Navy Office of Purveyor of Supplies is established.
24th: 1959 - USS Galveston (CLG 3) fired the first Talos surface-to-air missile.
25th: 1933 - USS Ranger (CV 4), the US Navy's first true aircraft carrier, is launched. 1991 - During Operation Desert Storm, USS Wisconsin (BB 64) and USS Missouri (BB 63) provide naval gunfire support and other operations.
26th: 1991 - During Operation Desert Storm, A-6E aircraft of VA-155 from USS Ranger (CVA 61) and Marine aircraft bomb Iraqi troops fleeing Kuwait City to Basra.
27th: 2017 - The fast-attack submarine USS Albuquerque (SSN 706) is decommissioned after 33 years of service during a ceremony held at Keyport Undersea Museum. 
28th: 1987 - Guided Missile Frigate USS Kauffman (FFG 59) is commissioned.
We'd like to give a shout out to one Special Operator in particular, EOD Senior Chief Kenton Stacy, who is featured on our packaging for Green Eyes. On November 9, 2017, he was on his fourth combat deployment in nine years, training local soldiers in Raqqa, Syria, to clear improvised explosive devices. Near the end of the event, one of these IEDs detonated, severely wounding him. A U.S. Army medic on scene administered CPR during the MEDEVAC; and over the following weeks Senior Chief Stacy endured multiple surgeries and procedures.
Nearly a year and a half later, he was able to return to his home. Paralyzed from the shoulders down and barely able to speak due to fragment injury to his neck, Kenton Stacy was welcomed home to the care of his loving wife Lindsey by a large crowd of his EOD shipmates. While the challenges are immense, the love of family has made it all possible.
Use discount code
STACYSTRONG10
and a portion of the proceeds will go to the Stacy Strong Project. Hoist a mug of Green Eyes to
#stacystrong
!
#stacystrongeodproject
SHIP'S STORE