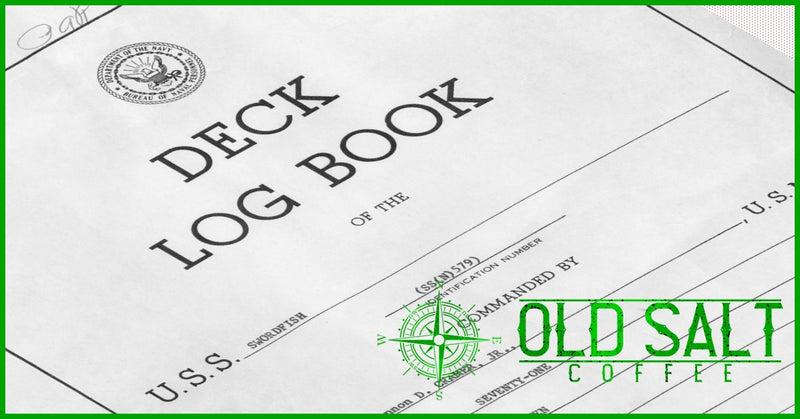 Deck Log - March 2021
Posted on
---
Welcome to March 2021!
A lot has happened with Old Salt Coffee Company over the past few months. We've partnered with several non-profits, and are dedicated to supporting these partners. You may have noticed our product pages have been updated with discount codes so you can select a non-profit to benefit from your purchases. We've also added the ability to modify your "mix" of coffee blends for your Whole Fleet (Plankowner) subscription. Stay tuned for more!
This month, we celebrate Women's History and St. Patrick's Day. As such, we are recognizing 2 Old Salts, Chief Yeoman Loretta Walsh, and Father of the Navy John Barry. We're also excited to share a little about the Mighty Mo, the WWII Battleship, USS MISSOURI (BB-63). And don't forget to Hoist a Mug of Old Salt Coffee!
Old Salt of the Month: Loretta Walsh
Today, there are more than 52,000 awesome women serving in the U.S. Navy. On March 17, 1917, Loretta Perfectus Walsh was the woman that started it all. Being P.O.'d about recent German unrestricted submarine warfare, the U.S. military decided to unleash our secret weapon - women! Loretta Walsh, 20 years of age and wanting to avenge the deaths of 15 Americans by German u-boat attacks, could not stand by. At the time, women had only been allowed to serve in the military as nurses, and they did not carry any of the benefits of rank. This made Loreta Walsh the first female to officially be recognized as an active duty service member of all services. Walsh enlisted on March 17th, and was sworn in on the 21st into the Chief Yeoman rating.  A month after she enlisted, and with its secret weapon in service, the U.S. declared war on Germany, officially entering WWI. She enlisted for 4 years, serving 2 years on active duty and two more on inactive reserve after WWI ended. During her service, the Chief Yeoman rating title was changed to Yeoman (F) for female servicemembers. Over 11,000 women served as Yeoman (F) during WWI, often referred to as Yeomanettes. At the conclusion of the war, and as the drawdown occurred, the Navy released the
Yeomanettes from active duty. But appropriately, these awesome patriots continued to receive reserve pay for the duration of their enlistment. Other than yeomen, women served in the Navy during WWI as radio operators, electricians, draftsmen, pharmacists, photographers, telegraphers, fingerprint experts, chemists, torpedo assemblers, and camouflage designers.
Sadly, Walsh contracted tuberculosis and passed away in 1925 at the young age of 29. She was laid to rest in the St. Patrick's cemetery in Olyphant, Pennsylvania, under a monument that reads:
LORETTA PERFECTUS WALSH
APRIL 22, 1896 – AUGUST 6, 1925
WOMAN AND PATRIOT
FIRST OF THOSE ENROLLED IN THE U.S. NAVAL SERVICE
WORLD WAR 1917-1919
HER COMRADES DEDICATE THIS MONUMENT
TO KEEP ALIVE FOREVER
MEMORIES OF THE SACRIFICE AND DEVOTION
OF WOMANHOOD
This month, we Hoist a Mug to Old Salt Yeoman (F), Loretta Walsh!
An Irish Original...
One of the Original Old Salts, John Barry (March 25, 1745 – September 13, 1803) was an Irish-American officer in the Continental Navy during the American Revolutionary War and later in the United States Navy. Not to be outdone by the likes of John Paul Jones and John Adams, he has been co-credited as "The Father of the American Navy." At the age of 30, Barry was commissioned as the first captain in the Continental Navy by John Hancock (president of the Continental Congress). He was the first captain placed in command of a U.S. warship commissioned for service under the Continental flag. After the Revolutionary War, he became the first commissioned U.S. naval officer, at the rank of commodore, receiving his commission from President George Washington in 1797. During his naval career, Barry commanded the U.S. warships Delaware, Lexington, Raleigh, Alliance, and United States.

Barry was born on March 25, 1745, in Ballysampson, Tacumshane, County Wexford, Ireland to a Catholic family. When Barry's family was evicted from their home by their English landlord, they moved to Rosslare on the coast, where his uncle, an Old Salt of a different flavor, worked a fishing skiff. As a youngster, Barry set out to make a name for himself as a seaman, starting out as a ship's cabin boy. As a devout Catholic, he each day at sea with a reading from
the Bible, and one assumes, a good ole cup o' joe. He had great regard for his crew and their wellbeing and always made sure they were properly provisioned while at sea.

This St. Patty's Day, we Hoist a Mug to another Old Salt, Commodore John Barry!
USS MISSOURI (BB-63)
Born in the midst of World War II, the shipyard workers at Brooklyn's New York Navy Yard constructed the battleship in time for her launch on January 29, 1944 and commissioning as the USS Missouri on June 11, 1944.
From there, she went on her Shakedown Cruise where the battleship and her crew tested their limits. USS Missouri would leave for the Pacific Theater from Pearl Harbor, Hawaii in early January 1945. On 16 February, she provided anti-aircraft defense for carriers conducting strikes against Tokyo. On 19 February, she supported the invasion of Iwo Jima. On 25 February, she participated in air strikes against Tokyo and on 1 March, against Okinawa. For much of March, she would provide anti-aircraft support, firing on Japanese aircraft that threatened the aircraft carriers around her. On 24 March, she joined USS New Jersey and USS Wisconsin for the shore bombardment of Okinawa.
Having participated in the invasion of Okinawa, and fending off numerous kamikaze attacks, Admiral Halsey chose the Mighty Mo as his Third Fleet flagship. They moved on to conduct strikes against Japan's mainland. And as the war drew to a close, on 15 August, Halsey received word of Japan's surrender. By 23 August, USS Missouri was confirmed as the surrender ship. Then the official surrender happened on the Missouri on September 2, 1945
USS Missouri's as-built design characteristics include: displacement 45,000; length 887'3"; beam 108'2"; draft 28'11"; speed 33 knots; complement 1,921; armament nine 16-inch, twenty 5-inch, eighty 40 millimeter, forty-nine 20 millimeter; class Iowa.
Continue reading about the Mighty Mo over at the BATTLESHIP MISSOURI MEMORIAL website! And when you're checking out of our store, use the discount code MOJOE10 to get 10% off, and we'll contribute a portion of the proceeds to the memorial!
On This Date in March...
1st: 1991 - Following USS Missouri's (BB 63) bombardment of Faylaka Island during Operation Desert Storm, hundreds of Iraqi soldiers wave white flags and surrender to the battleship's Remotely Piloted Vehicle (RPV) flying overhead.

2014 - USS Somerset (LPD 25) is commissioned in Philadelphia, PA. The ninth of the 12-ship San Antonio-class amphibious transport dock warships, Somerset is named to honor the passengers of United Airlines Flight 93 who attacked the 9/11 terrorists after they hijacked the plane, sending it crashing into the ground at Somerset County, PA, rather than their target in Washington, D.C
2nd: 1859 - Launch of Saginaw at Mare Island, first Navy ship built on West Coast of U.S.
1867 - Birthday of Civil Engineer Corps.
1973 - Women begin pilot training to U.S. Navy.
3rd: 1776 - Under the command of Commodore Esek Hopkins and Marine Capt. Samuel Nicholas, the Continental Navy makes the first American amphibious landing operation at New Providence, Bahamas, and captures the forts for much needed ordnance and gunpowder.
1969 - Initially attached to Fighter Squadron (VF) 121 and operated out of a trailer, the Navy's Fighter Weapons School, also known as "Top Gun," is established.
4th: 1925 - Congress authorizes the restoration of frigate USS Constitution, which had launched in 1797. In July 1931, amid a 21-gun salute, Constitution is recommissioned and sails on a tour of 90 US ports along three coasts.
5th: 2005 - USS Nitze (DDG 94) is commissioned at Naval Station Norfolk. The Arleigh Burke-class guided-missile destroyer is named after former Secretary of the Navy Paul Nitze, who was in attendance for the ship's launching and christening in April 2004, but died before the commissioning ceremony.
6th: 1822 - The schooner Enterprise captures four pirate ships in the Gulf of Mexico. During her time in the Gulf, Enterprise takes 13 vessels while suppressing pirates, smugglers, and slaves.
2010 - USS Dewey (DDG 105) is commissioned at Seal Beach, Calif. The Arleigh Burke-class guided-missile destroyer is named after former Adm. of the Navy George Dewey, hero of the Battle of Manila Bay during the Spanish-American War of 1899.
7th: 1958 - USS Grayback (SSG 574) is commissioned. She is the first submarine built from the keel up with guided missile capability to fire the Regulus II missile.
1994 - The Navy issues the first orders for women to be assigned on board a combatant ship, USS Dwight D. Eisenhower (CVN-69).
8th: 1945 - Phyllis Daley becomes the first African-American ensign in the Navy Nurse Corps and serves at the Naval Dispensary at Boston, Mass.
1961 - USS Patrick Henry (SSBN 599) returns from patrol to become the first ballistic missile submarine to use Holy Loch, Scotland, as a refit and upkeep anchorage.
9th: 1862 - In the first battle between ironclads, USS Monitor and CSS Virginia engage in close combat in Hampton Roads, Va. Neither side could claim victory, but it eventually ends the era of wooden ships.
1919 - The first flight from a battleship platform is made by Lt. Cmdr. Edward O. McDonnell in a Sopwith Camel from turret No. 2 of USS Texas (BB 35) while anchored at Guantanamo Bay, Cuba.
10th: 1948 - First use of jets assigned to operational squadron (VF-5A) on board a carrier (Boxer)
2001 - USS Winston S. Churchill (DDG 81) is commissioned at Naval Station Norfolk. The 31st destroyer of the Arleigh Burke class is the fourth U.S. Navy warship to be named after a British citizen. Churchill has a Royal Naval officer assigned permanently to the ship and she flies the Royal Navy's White Ensign as well as the Stars and Stripes.
2007 - USS New Orleans (LPD 18) is commissioned at New Orleans, Louisiana. The second of the 12-ship San Antonio-class amphibious transport dock warships, New Orleans is homeported at Naval Base San Diego.
11th: 1845 - George Bancroft takes office as the 17th Secretary of the Navy. Although he serves in that position only 18 months, he establishes the Naval Academy at Annapolis and encourages the growth and importance of the Naval Observatory.
12th: 1956 - The first missile firing aircraft squadron, Attack Squadron 83, is deployed overseas aboard USS Intrepid (CVA 11).
13th: 1952 - During the Korean War, counter-battery engagements by USS Manchester (CL 83), USS James E. Kyes (DD 787), USS McGinty (DE 365) and USS Douglas H. Fox (DD 779) are supported by aircraft from Task Force 77 silence enemy guns at Kalmagak during the Siege of Wonsan.
1993 - USS Montpelier (SSN 765) is commissioned at Naval Station Norfolk. The boat is the 15th in the Los Angeles-Improved class of attack submarines.

14th: 1929 - During the Elba, Ala., flooding, Navy planes from Naval Air Station Pensacola, Fla., make 113 flights carrying relief supplies and conducting rescues to flooded towns in southern Alabama and western Florida.
1964 - USS Sacramento (AOE 1) is commissioned at Seattle, Wash. She is the first-of-class Combat Supply Ship that combines the characteristics of an oiler, ammunition and supply ship.
15th: 1944 - USS Shamrock Bay (CVE 84) is commissioned. During World War II, she serves in the Atlantic and is sent to the Pacific due to the loss of escort carriers and participates in the Okinawa Campaign.
1947 - Ensign John W. Lee, Jr., becomes the first African-American with a commission in the regular Navy and serves on board USS Kearsarge (CV 33).
16th: 1944 - PBY-5A (VP 63) seaplanes, employing magnetic anomaly detector (MAD) gear, detect German submarine U 392 while attempting to transit the Straits of Gibraltar. The sub is attacked and sunk by nearby allied ships.
17th: 1898 - John Holland's submarine, Holland IV, performs the first successful diving and surfacing tests off Staten Island, N.Y.
1959 - USS Skate (SSN-578) becomes the first submarine to surface at the North Pole, traveling 3,000 miles in and under Arctic ice for more than a month.
18th: 1991 - The first ship supporting Operation Desert Shield/Storm, combat store ship USS Sylvania (AFS 2), returns back to Norfolk, Va. While supporting Desert Shield/Storm, Sylvania delivered 19,000+ pallets of cargo (equaling 20,500 tons of supplies), answered 30,000+ requisitions, and delivered spare parts and food sustaining 35,000+ sailors aboard 150 ships.
19th: 1918 - Ensign Stephen Potter is the first American to shoot down an enemy seaplane, a German plane off the German coast during World War I.
20th: 1922 - USS Jupiter (Fuel Ship #3) is recommissioned as USS Langley (CV 1), the Navy's first aircraft carrier.
1999 - USS Porter (DDG 78) is commissioned at Port Canaveral, Fla. The guided-missile destroyer is the 28th of the Arleigh Burke-class and the fifth U.S. Navy ship to be named after Commodore David Porter and his son, Adm. David Dixon Porter.
21st: 1917 - Loretta Walsh becomes the first woman Navy petty officer when sworn in as chief yeoman.
22nd: 1991 - USS Macdonough (DDG 39) and USS Nicholas (FFG 47) arrive back at their homeport at Naval Base Charleston, S.C., the first Navy surface combatants to return to CONUS after participating in Desert Storm.
23rd: 1882 - Secretary of the Navy William H. Hunt (Jan. 7, 1881 to April 16, 1882), creates the Office of Naval Intelligence (ONI) with General Order No. 292.
24th: 1919 - The battleship USS Idaho (BB 42) is commissioned. Idaho serves with the Pacific fleet, participating in gunfire support of the Aleutian, Marianas, Iwo Jima, and Okinawa Campaigns, and is in Tokyo Bay Sept. 2, 1945 when Japan formally surrenders.
25th: 1915 - The submarine, F-4 (SS 23) sinks off Honolulu, Hawaii, with the loss of 21 lives. It is the first commissioned submarine loss for the U.S. Navy.
26th: 1942 - During World War II, Adm. Ernest J. King becomes Chief of Naval Operations and also Commander, U.S. Fleet, holding both positions through the rest of the war, guiding the Navy's plans and global operations.
27th: 1794 - President George Washington signs "An act to provide a naval armament" authorizing the construction of six frigates: United States, Constellation, Constitution, Chesapeake, Congress, and President.
2007 - The last known female veteran of World War I, Charlotte Louise Berry Winters, dies at the age of 109. She enlisted in the Navy in 1917.
28th: 1991 - The first U.S. Navy carrier battle groups return to CONUS following action during Operation Desert Shield and Desert Storm. The USS John F. Kennedy (CV 67) battle group returns to Norfolk, Va., and the USS Saratoga (CV 60) battle group returns to Mayport, Fla.
29th: 1960 - The first fully integrated Fleet Ballistic Missile system test, an A1X test vehicle, is launched from USS Observation Island (EAG 154).

30th: 1973 - USS Forrestal (CVA 59) and Sixth Fleet ships provided aid to Tunisia following a disastrous flood, relocating 729 persons, 27 tons of cargo and an entire herd of 227 sheep.
31st: 1854 - Commodore Matthew C. Perry and Japanese officials sign the Treaty of Kanagawa, opening trade between the U.S. and Japan. The treaty also provided protection for American merchant seamen wrecked in Japanese waters.
1917 - Rear Adm. James H. Oliver takes possession of the Danish West Indies for the United States, and they are renamed the U.S. Virgin Islands. He also becomes the first governor of the islands under American control.
1992 - USS Missouri (BB-63), the last active American battleship, is decommissioned. Commissioned in June 1944, she served during World War II, notably for the location of the official Japanese surrender on Sept. 2, 1945. Today, the "Mighty Mo" is open for visitors in Pearl Harbor, Hawaii, as the Battleship Missouri Memorial, under the care of the USS Missouri Memorial Association, Inc.
Stacy Strong Project
We'd like to give a shout-out to one Special Operator in particular, EOD Senior Chief Kenton Stacy, who is featured on our packaging for Green Eyes. On November 9, 2017, he was on his fourth combat deployment in nine years, training local soldiers in Raqqa, Syria, to clear improvised explosive devices. Near the end of the event, one of these IEDs detonated, severely wounding him. A U.S. Army medic on scene administered CPR during the MEDEVAC; and over the following weeks, Senior Chief Stacy endured multiple surgeries and procedures.

Nearly a year and a half later, he was able to return to his home. Paralyzed from the shoulders down and barely able to speak due to fragment injury to his neck, Kenton Stacy was welcomed home to the care of his loving wife Lindsey by a large crowd of his EOD shipmates. While the challenges are immense, the love of family has made it all possible.
Use discount code STACYSTRONG10 to get 10% off your order and a portion of the proceeds will go to the Stacy Strong Project. Hoist a mug of Green Eyes to #stacystrong! #stacystrongeodproject
SHIP'S STORE