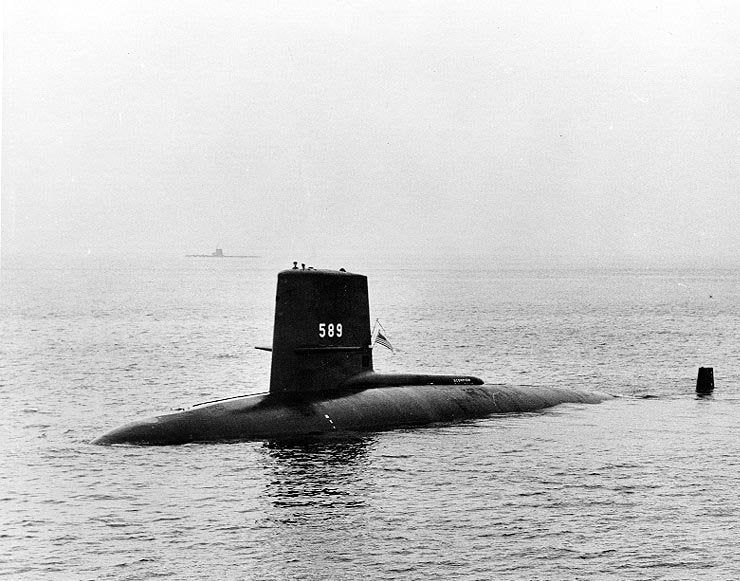 Deck Log: May 2021
Posted on
---
USS SCORPION
Only six years after the tragic loss of the USS Thresher, the US Submarine force would suffer another tragic loss. USS Scorpion was a Skipjack class nuclear-powered attack submarine and was commissioned on 29 July 1960. Prior to the accident, cold war pressures had caused SUBLANT to cut corners to improve submarine availability. Her needed 36-month overhaul was cut short to only nine months in 1967. Long overdue SUBSAFE work was omitted from the schedule, specifically the new central valve control system, as well as the needed corrections that lead to the USS Thresher disaster. These ommissions and delays were approved by the CNO.

Scorpion departed Rota, Spain in May 1968 with tasking to provide acoustic noise cover for USS John C. Calhoun against Soviet intelligence trawlers and two fast 32-knot Soviet November class hunter-killer submarines. She then observed and listened to Soviet naval activities in the Atlantic. Having completed her tasking, she prepared to head back to Norfolk Naval Station. Scorpion attempted radio communications on 20 and 21 May to let COMSUBLANT know they were closing in on a Soviet submarine research group. Six days later, she was overdue at Norfolk. By 5 June, Scorpion and her crew were presumed lost, and her name was stricken from the Naval Vessel Register on 30 June. Scorpion was eventually located by the Navy's oceanographic research ship Mizar in October 1968.

The leading theory of the accident is a hydrogen explosion due to a change in the ventilation lineup while proceeding to periscope depth. The buildup of hydrogen would have been caused by a battery charge. Other theories range from a torpedo explosion from the Scorpion herself (hot running torpedo, accidental or deliberate launch, or inadvertent activation due to stray voltage), structural damage, malfunction of the trash disposal unity, or even a Soviet attack. The Navy's various formal investigations have been inconclusive.

This May, we solemnly hoist our mugs to the Scorpion and her crew of 99 Old Salts who are on Eternal Patrol. Sadly we'd also like to recognize the sacrifice of the 53 personnel of the KRI Nanggala who now are also on Eternal Patrol.
VE Day! (May 8th)
Although most of the well-known World War II Naval activities occurred in the Pacific Theater, the Victory in Europe also owes credit to countless US Naval personnel.
At the start of the United States' official entry into the war, Roosevelt ordered the United States occupation of Iceland to replace the British occupation force. On 22 June 1941, the U.S. Navy sent Task Force 19 (TF 19) from Charleston, South Carolina, to assemble at Argentia, Newfoundland. TF 19 included 25 warships and the 1st Provisional Marine Brigade of 194 officers and 3,714 men from San Diego, California under the command of Brigadier General John Marston. TF 19 sailed from Argentia on 1 July. On 7 July, Britain persuaded the Althing to approve an American occupation force under a U.S.–Icelandic defense agreement, and TF 19 anchored off Reykjavík that evening. U.S. Marines commenced landing on 8 July, and disembarkation was completed on 12 July.
On 6 August, the U.S. Navy established an air base at Reykjavík with the arrival of Patrol Squadron VP-73 PBY Catalinas and VP-74 PBM Mariners. U.S. Army personnel began arriving in Iceland in August, and the Marines had been transferred to the Pacific by March 1942. Up to 40,000 U.S. military personnel were stationed on the island, outnumbering adult Icelandic men (at the time, Iceland had a population of about 120,000). The agreement was for the U.S. military to remain until the end of the war (although the U.S. military presence in Iceland remained through 2006).
The US Navy contributed 17% of the combat warships that supported amphibious landing troops at Normandy. To this day, the Normandy landing remains the largest and most complex amphibious operation of all time. In the first 30 days, the armada landed 850,000 men, 148,000 vehicles, and 570,000 tons of supplies on the beaches and makeshift ports, for the Germans were holed up in control of all the regular ports. The operation involved 195,000 men from the various navies and merchant marine. The navies used 113,000 British, 53,000 American, and 5,000 men from other allies. In addition, there were 25,000 sailors from the Allied merchant navies.
Navy personnel casualties that occurred in the Atlantic Theater totaled more than 15,000. This May 8th, we at Old Salt Coffee Company hoist our mugs in honor of the personnel that fought and supported the war effort in Europe!
Old Salt of the Month: Senior Chief Kyle Milliken
May 5, 2017, the first U.S. military casualty in Somalia for over 20 years was a Navy SEAL who died during an operation against Al-Shabab. Senior Chief Special Warfare Operator Kyle Milliken, 38, of Falmouth, Maine, was killed during an operation against the Islamist militants "in a remote area approximately 40 miles west" of the Somali capital Mogadishu. His death is the first confirmed U.S. military death in Somalia since the 1993 Battle of Mogadishu. 
Milliken enlisted in the U.S. Navy in 2002 and was assigned to an East Coast based special warfare unit. He was a graduate of Cheverus High School in Portland, Maine. "Milliken embodied the warrior spirit and toughness infused in our very best Navy SEALs," said the commander of Milliken's naval command, Rear Admiral Timothy Szymanski. "His sacrifice is a stark reminder that Naval Special Operators are forward doing their job, confronting terrorism overseas to prevent evil from reaching our shores."
On This Date in May...
1st: 1934 - Lt. Frank Akers makes a hooded landing in an OJ-2 at College Park, Maryland, in the first blind landing system intended for an aircraft carrier.
1951 - During the Korean War, AD-4 Skyraiders from Squadron VA-195, USS Princeton (CV-37), attack Hwachon Dam using aerial torpedoes, the only use of these weapons during the Korean War.
2nd: 1896 - A landing party of 15 Marines and 19 Seaman from USS Alert arrive at Corinto, Nicaragua, to protect American lives and property during a period of political unrest.

1992 - USS Anzio (CG 68) is commissioned at her homeport of Norfolk, Va. The Ticonderoga-class guided-missile cruiser is named for the Italian allied amphibious assault in May 1944 during World War II.
2011 - President Barack Obama announces Navy SEALs raided Osama bin Laden's compound in Abbottabad, Pakistan, and killed America's most wanted terrorist during Operation Neptune Spear.
3rd: 1975 - USS Nimitz (CVN 68) is commissioned at Naval Station Norfolk, Va. Only America can make a machine like this, notes President Gerald R. Ford about the nuclear-powered aircraft carrier. There is nothing like her in the world.

1980 - USS Peleliu (LHA 5) is commissioned in Pascagoula, Miss. She is the final Tarawa-class amphibious assault ship built and the first to be named in honor of the battles fought in the Palau Islands.
2008 - USS North Carolina (SSN 777) is commissioned at Port of Wilmington, N.C., before sailing for its homeport of Naval Submarine Base New London in Groton, Conn.
4th: 1917 - Destroyer Division 8, commanded by Cmdr. Joseph K. Taussig, arrive at Queenstown, Ireland, to protect convoy escorts against German U-Boats.
2013 - USS Anchorage (LPD 23) is commissioned in her namesake city. The San Antonio-class amphibious transport dock is the second ship to be named after the Alaskan city. 
5th: 1944 - The hospital ship, USS Comfort (AH-6), is commissioned at San Pedro, Calif., and is the first ship to be manned jointly by U.S. Army and U.S. Navy personnel.
1961 - Cmdr. Alan Shepard Jr. makes the first U.S. manned space flight. USS Lake Champlain (CVS-39) recovers the capsule after the 15 minute flight.

2007 - USS Hawaii (SSN 776) is commissioned at Groton, Conn. The Virginia-class submarine, the first to be named after the Aloha State, arrives at its homeport of Pearl Harbor July 23, 2009 following her maiden underway period.
2017 - Senior Chief Special Warfare Operator Kyle Milliken, 38, of Falmouth, Maine, is killed during a Somali National Army-led operation with U.S. Africa Command against al-Shabaab May 5 in a remote area approximately 40 miles west of Mogadishu.
6th: 1916 - The first ship-to-shore radio telephone voice conversation was held on board USS New Hampshire (BB 25) off the Virginia Capes.
1995 - USNS Laramie (T-AO 203) is launched at the Avondale Shipyard, Inc. at New Orleans, La. The Henry J. Kaiser-class underway replenishment oiler is operated by the Military Sealift Command. The Laramie enters non-commissioned U.S. Navy service May 7, 1996.
7th: 1934 - The frigate Constitution completes her 3-year tour of 76 port cities along the Atlantic, Gulf, and Pacific coasts and then returns to Boston, Mass. Prior to her journey that began July 1931, the 137-year-old frigate undergoes a refit and overhaul. Congress authorized the restoration of Constitution in March 1925.

8th: 1911 - Capt. Washington I. Chambers prepares the requisition for the first US Navy airplane, the Triad A-1, marking the birth of Naval Aviation.
1945 - The unconditional surrender of Germany was ratified by Allies in Berlin. This event is remembered as V-E Day!

9th: 1992 - USS Ashland (LSD 48) is commissioned in New Orleans, La. Following the ceremony, the dock landing ship sails for its homeport at Little Creek, Va.
10th: 1775 - American forces under Gen. Benedict Arnold and Ethan Allen cross Lake Champlain and capture the British fort at Ticonderoga, New York. The US Navy has honored this action by naming five ships after the battle.
1945 - During the Okinawa Campaign, Pharmacists Mate Second Class William D. Halyburton aids a fallen Marine, shields his body, and is mortally wounded. He is posthumously awarded the Medal of Honor. USS Halyburton (FFG-40) is named in his honor.
1960 - USS Triton (SSRN 586), commanded by Capt. Edward L. Beach, completes a submerged circumnavigation of the world in 84 days following many of the routes taken by Magellan.
1993 - USS Lake Erie (CG 70) is commissioned at Bath Iron Works in Maine. Two days later, the Ticonderoga-class cruiser sets sail for her homeport at Pearl Harbor, Hawaii.
11th: 1945 - During the Okinawa Campaign, kamikazes crash into Task Force 58s flagship, USS Bunker Hill (CV 17). As a result, Vice Adm. Marc A. Mitscher transfers his flag to USS English (DD 696), then to USS Enterprise (CV 6) on May 14.
12th: 1938 - USS Enterprise (CV 6) is commissioned. Notable service during WWII include the Doolittle Raid, the Battle of Midway, the Guadalcanal Campaign, Battle of the Santa Cruz Islands, the Battle of the Philippine Sea, the Battle of Leyte Gulf, and the Okinawa Campaign, where she was badly damaged by a kamikaze strike.

1942 - USS Massachusetts (BB 59) is commissioned. She serves in both the Atlantic and Pacific during World War II, notably participating in Operation Torch, Battle of Leyte Gulf, and the bombing of the Japanese homeland.
13th: 1908 - The Navy Nurse Corps is established by Public Law No. 115, though nurses have been volunteering onboard Navy ships prior to the Civil War.
1964 - The first all nuclear-powered task group, USS Enterprise (CVAN 65), USS Long Beach (CGN 9) and USS Bainbridge (DLGN 25), is organized and deploys to the Sixth Fleet. The task group departs in July and circumnavigates the globe without refueling, returning that October.
14th: 1945 - German submarine (U 858) arrives at Cape May, Del., after surrendering at sea four days earlier. USS Pillsbury (DE 133) and USS Pope (DE 134) arrive later that day, take over the boat, place a USN crew on board, and remove 1/2 of her crew including three of her four officers. (U 858) is later scuttled off the coast of New England during torpedo trials.

15th: 1800 - The frigate USS Essex, commanded by Capt. Edward Preble, arrives in Batavia, Java, to escort United States merchant ships. During her journey, she is the first U.S. Navy warship to cross the Equator and the first U.S. man-of-war to double the Cape of Good Hope.
1969 - The pre-commissioned submarine Guitarro (SSN 665) accidentally sinks while moored at U.S. Mare Island Naval Shipyard, Calif. Due to the damage, her commissioning date is rescheduled to Sept. 1972.
16th: 1965 - The first US naval gunfire support in Vietnam is performed by USS Henry W. Tucker (DD-875) as she fires upon the Viet Cong coastal concentrations southeast of Saigon.
1992 - Military Sealift Commands USNS Tippecanoe (T-AO 199) is christened and launched at New Orleans, La.
17th: 1973 - Capt. Robin Lindsay Catherine Quigley becomes the first woman to hold a major Navy command when she assumes command of U.S. Navy Service School, San Diego, Calif.
18th: 1969 - Apollo 10 is launched with Cmdr. John W. Young as command module pilot and Cmdr. Eugene Cernan as the lunar module pilot. The mission is a dress rehearsal for the first lunar landing.
19th: 1813 - During the War of 1812, the frigate Congress, commanded by John Smith, captures and burns the British merchant brig, Jean, in the Atlantic.
20th: 1943 - The Tenth Fleet is established in Washington D.C., under the command of Adm. Ernest J. King, to coordinate U.S. anti-submarine operations in the Atlantic. Disbanded after WWII, the Tenth Fleet is reactivated in Jan. 2010 as U.S. Fleet Cyber Command.
1995 - USS Russell (DDG 59) is commissioned during a ceremony at Pascagoula, Miss. The 9th Arleigh Burke-class guided-missile destroyer is named for Rear Adm. John Henry Russell and his son, Commandant of the Marine Corps John Henry Russell Jr.

21st: 1983 - USS Albuquerque (SSN 706) is commissioned at Submarine Base New London, Groton, Conn. 
2005 - The first T-AKE ship, USNS Lewis and Clark (T-AKE 1) is launched at the National Steel and Shipbuilding Company (NASSCO) in San Diego, Calif. The dry cargo ship replaces the aging T-AE ammunition ships and T-AFS combat stores ships that are nearing the end of their service lives.
22nd: 1968 - USS Scorpion (SSN 589) is lost with her crew south-west of the Azores. In late Oct. 1968, her remains are found on the sea floor more than 10,000 feet below the surface by a deep-submergence vehicle towed from USNS Mizar (T-AGOR-11).
23rd: 1939 - USS Squalus (SS 192) suffers a catastrophic main induction valve failure during a test dive off the New Hampshire coast and is partially flooded, killing 26 crew members.

1943 - USS New Jersey (BB 62) is commissioned. During WWII, she participates in the Battle of the Philippine Sea, Battle of the Leyte Gulf and supports the Iwo Jima and the Okinawa Campaign in the Pacific theatre. New Jersey currently serves as a museum ship at Camden, NJ.
24th: 1939 - Vice Adm. Allan McCann's Rescue Chamber is first used to rescue 33 men from the sunken USS Squalus (SS 192). Four Navy divers receive the Medal of Honor for their heroic actions on May 24-25 to rescue the trapped men.
1962 - Aurora 7 (Mercury 7) is launched and piloted by Lt. Cmdr. Malcolm Scott Carpenter. Aurora 7 completes three orbits in 4 hours, 56 minutes at an altitude up to 166.8 statute miles at 17,549 mph.
25th: 1911 - USS Wyoming (BB 32) launches. She is commissioned in Sept. 25, 1912 and later participates in the Veracruz Intervention and World War I.
1952 - USS Iowa (BB 61) begins shelling industrial and rail centers at Chongjin, Korea. For her Korean War service, she receives two battle stars. USS Iowa is decommissioned in 1990 and is struck from the Navys list in 2006. Iowa is currently a museum ship.
1973 - Skylab 2, the first U.S. manned orbiting space station, launches with all-Navy crew: Capt. Charles Conrad, Jr., Cmdr. Paul J. Weitz and Cmdr. Joseph P. Kerwin.
1985 - USS Alabama (SN 731) is commissioned at Naval Submarine Base New London, Conn.
26th: 1990 - USS Beaufort (ATS 2) rescues 24 Vietnamese refugees in the South China Sea.
27th: 1942 - Mess Attendant 2nd Class Doris Miller receives the Navy Cross for his heroism at Pearl Harbor, Dec. 7, 1941. Adm. Chester W. Nimitz presents the medal to Miller on board USS Enterprise (CV 6). He is killed when his ship is torpedoed Nov. 24, 1943, during the invasion of the Gilbert Islands.

1995 - USS Paul Hamilton (DDG 60) is commissioned at Charleston, S.C. before sailing to her homeport of Pearl Harbor, Hawaii. Paul Hamilton, named for the third Secretary of the Navy Paul Hamilton, is the 10th in a class of ship that continues to serve the fleet.
28th: 1980 - 55 women become the first female graduates of the U.S. Naval Academy.
29th: 1781 - During the American Revolution, the Continental frigate Alliance, under command of Capt. John Barry, battles HMS Atalanta and HMS Trepassy off Nova Scotia. After several broadsides by Alliance, the British ships surrender.
1844 - The frigate Constitution, commanded by John Percival, sails from New York to depart on her 52,370 mile around-the-world cruise. Heading eastward, she visits places such as Brazil, Borneo, China, the Philippines, Hawaii, and Mexico before returning to Boston on September 27, 1846.

2004 - USS Pinckney (DDG 91) is commissioned at Naval Construction Battalion Center Port Hueneme, Calif. The Arleigh Burke-class destroyer is named for Cook 1st Class William Pinckney, who received the Navy Cross for rescuing a fellow USS Enterprise (CV 6) crew member during the Battle of Santa Cruz Oct. 26, 1942.
30th: 2008 - USS Dubuque (LPD 8) rescues six Filipino mariners from a sinking vessel in the Balabac Strait. She was originally commissioned in September 1967 and decommissioned in June 2011. Dubuque is now in the reserve fleet at Bremerton, Wash.
31st: 1900 - Sailors and Marines from USS Newark (C 1) and USS Oregon (BB 3) arrive at Peking (now known as Beijing), China, to protect U.S. and foreign diplomatic legations during the Boxer Rebellion.
SHIP'S STORE